XIVAC insulation removal and home renovation
When renovating buildings is the removal of insulation materials from walls and crawl spaces often a requirement. It is not possible to apply with the old insulation even in the crawl space / cavity wall. New insulation Also, in the re-isolation of crawl spaces, this is important. In addition, it is difficult to get without first the old insulation and remove the water. / Mud at the foundation of a house During the renovation of a building is often strikes again isolate over because removing insulation from crawl spaces and wall cavities a difficult and costly task is.
The XIVAC your company can help here. We have developed our unit by removing all types of insulation and pollution from cavity walls and crawl spaces. We have XIVAC developed so that it is very affordable and by far the cheapest solution on the market. Examples of materials that we are able to remove:
Insulation Pearls
Loose glass wool and rock wool
HR foam
Water / rubble



Cavity walls
We can remove all loose insulation of walls. Removing eg loose glass wool or rock wool for the XIVAC no problem. The standard drill pattern for filling the wall is often enough to suck the wall. Empty
The next steps we follow to suck the blank wall: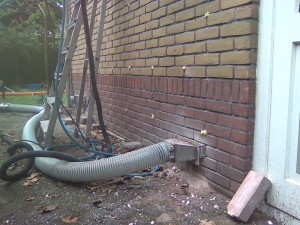 Removing some stones at ground level
Drill holes for filling the cavity with new insulation
D nozzle holes on the XIVAC connect
Through the air cavity clearing
The insulation material is neatly collected in big bags
Checking the cavity with an endoscope


This way you can suck the XIVAC approximately 100m2 per day. This equates to a full sized house. The rubble that remained behind in the cavity sucks XIVAC on. So you can with a nice empty cavity further.
Benefits XIVAC
For rent with or without driver (we can quickly train your staff for longer-term projects)
For rent per day or for longer periods where we have very favorable rates for longer time.
Low fuel consumption
Compact, we can come in almost every street (B license)


Hose distances up to 150m are no problem
You do not need no more to customers
one property per day (can be even more at home blocks)

Some
remove stones at ground level
Insulation with two men to remove
(own) staff

Crawl Spaces:
Also accessible and cleaning crawl spaces is no problem for the XIVAC. Whether to renew the insulation or included the renovation of the foundation, the XIVAC makes your job easier. Between 1965 and 1984 there is a lot on the type of concrete used Kwaaitaal and Manta. In these floor systems is often determined carbonation and this can provide the necessary (serious) problems. The Xivac easily remove insulation, water and debris from the crawl space so that you can easily repair the floor construction and not have to work.
Benefits XIVAC:
Very fast crawl spaces empty
Affordable
Water and debris are no problem. Here we have developed a special container so you can separate and prevents pollution. Insulation and water The insulation if required to reuse.
to 3 homes per day cleaning (depending on property type and area) is possible
XIVAC for shorter and longer periods for rent
XIVAC can be operated by your own staff
Saving time for working in crawl spaces
Insulation is reusable if desired (can be neatly collected in bags)


In 2013 we will offer a ontzorgpakket:
Besides that you can rent the XIVAC we are working to offer to you to relieve a complete package. Hereby we ensure that the cavity wall or crawl space empty handed and you will not need to look further. For order Please
contact
us for the possibilities!